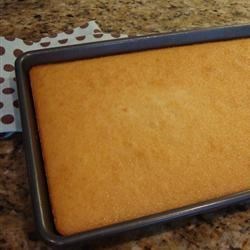 So yummy! I made this cake with the frosting recipe below.
Buttercream Frosting
(from PCS Grandmother's Kitchen cookbook, vol. 3)
1/4 c Crisco (I used another 1/4 c butter.)
1/4 t almond extract (I think this is what made the frosting so great!)
Beat powdered sugar, butter, milk and extracts at low speed until well-blended. At med speed, beat until light and fluffy.
Since I've been making all these yummy treats lately, I've been eating too many of them so I challenged myself not to eat any cookies, cake, etc until our camping trip in June (hello, I'm not passing up smores!). I haven't even gotten through one day and its hard (especially with this leftover cake sitting on the counter!), but I'm thinking it'll get easier as I train myself not to reach for sweets. Heading to the grocery store tonight to pick up some healthier options.